About Us
Since 1979, Budget Bicycle Center is a full service bicycle shop in the heart of Madison, Wisconsin. Situated just south of the University of Wisconsin-Madison campus, we provide a diverse product selection and a confident and knowledgable staff. With four very different stores on one street, we are sure that you will find something that you like.
Midwest's Largest selection
Repairs done in 24 hours or less
Won't be undersold!
Four unique stores in 4 blocks
Fitness equipment
Freedom of choice
Friendly, knowledgable staff
Classes
Home of the Largest Used Bicycle Store in the world!
Rentals of all types
Service with all sales
Easy access - free parking
Large clothing department
Red Bike Project - Free bicycles
Trade-ins welcome
Personal Bicycle Fittings
Car Racks sold and installed
Safe access to bicycle path one block north - Owner on premises - The owner thoroughly checks and test rides all the new and used bicycles we sell!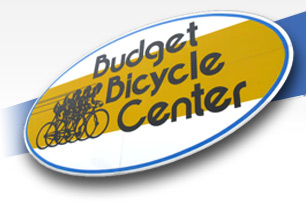 New Bicycles
608-251-8413
1230 Regent St
Mountain, Comfort, City, Hybrid, BMX, Cruiser, and Children's Bicycles from:
Trek
Redline
Bianchi
Fuji
Giant
SE Racing
Felt
Raleigh
Breezer
Diamond Back
Yuba
Plus Burley Trailers, Trail-A-Bikes, Baby Joggers, Unicycles, and Fitness Equipment from:
Chariot Carriers
Burley
Kettler
Schwinn Fitness
Baby Jogger
Bob
Torker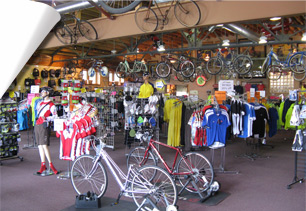 608-251-1663
930 Regent St
"Largest Used Bicycle Store in the World"
Reconditioned
Over 3000 in stock
Cruisers and Lowriders
Children's
Road
Brand Name Foreign and American
Personal Bicycle Fittings
1, 2, 3, 5, 10, 12, 15, 18,20, 21, 22, 24, 27, 30 speeds
New bicycle Closeouts
Accessories
Mountain & Hybrid
Collectibles
Browsing Encouraged
Road Bike Rentals
Trailers and Trail-a-bikes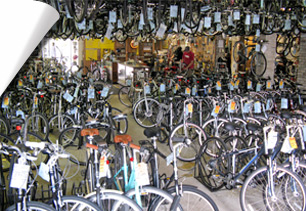 Parts, Service, Accessories, Car Racks, and Clothing
608-251-8413
1124 Regent St
Everything you need for your next bicycling adventure
Jerseys
Tights
Helmets
Eyewear
Shorts
Shoes
Books
Large Parts Inventory
Car Racks by Yakima, Thule, Saris
NOS and used parts
Tires and Tubes replaced while you wait
Knowledgeable year-round repair staff
Bicycle Parking Systems
Bicycle Packaging, shipping and storage
24 Hour turn-around on service