Random Stuff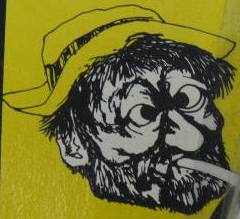 Interesting items that we have found along with the vintage parts in the website. Always fun, sometimes quirky, and mostly antique.
Live the high life with this retro style Miller poster

Add a little "Full Tilt Taste" your rec room or mancave with this vintage piece of advertising

Early version of the popular LeRun Skatebikes!

Rare bike shop display!

CLOSEOUT PRICE $624.99

Your Savings: 50%

Anti-theft Gas Lock Stops Siphon Hoses from stealing gas from your car

Excellent condition vintage horsey ride from an era gone by!

Trek Lime Green Button - Chain Flower

CLOSEOUT PRICE $4.89

Your Savings: 51%

Trek Lime Green Button 'f' style

CLOSEOUT PRICE $4.89

Your Savings: 51%

Antique Americana

Show your Badger pride with this Wisconsin Badgers Armchair

From the BMX glory days.

NOS Lug'ness

Celebrate surf rock legend Dick Dale, with this poster from his May 12th show

Quench your thirst to collect by buying this Vintage 1970's Sprite bottle

You could be the champion you always wanted with this 1973-74 Women's Bowling Trophy

This classic tequila poster would look great in a bar, garage or retail environment

A unique handcrafted wood and duct tape sign of Bucky Badger.
Show your UW Madison pride

2003 Trek OCLV Carbon Fiber Shop Display

CLOSEOUT PRICE $24.99

Your Savings: 49%

Rare vintage pedal car in good condition!

Cool vintage sled for your cabin or kids!

Neat promotional cooler, perfect for your party or event!

Cool vintage Michelin promotional item!

Beautiful, high quality vintage table!

This product is only available in our stores.

used retail vintage rotatable bicycle mini license plate hooked display stand

CLOSEOUT PRICE $49.99

Your Savings: 50%

Vintage RL 14KT Jewelry Display Case Earrings Rings Lighter Double-sided

CLOSEOUT PRICE $74.99

Your Savings: 50%

Vintage Zippo Case Cabinet Holder 4 Level Display Locks Clear Plastic 16" tall

CLOSEOUT PRICE $144.99

Your Savings: 50%

A working original arcade cabinet for all of your beer serving desires!

This is a working cabinet video gambling game. It does accept both quarters and bills (1, 5, 10 & 20). The screen is great and it has the keys to both the upper and lower cabinets, the empty lower cabinet is where the inserted currency is dropped.



There are a few scratches and marks on the cabinet which we have shown in the photos, and the ground prong on the plug is missing. None of this affects game play or operation. There does seem to be a loose connection in the cabinet - any rough handling or jostling of the game during play will cause the game to blink out and restart.



It measure 64" tall x 24" wide x 25" deep. It is very heavy and you will need a friend to help you load it. This is available for local pick up only.



This game is being sold for entertainment purposes only and does not dispense prizes or currency. This game is being sold as is. Please see photos for additional details.