Shop by Category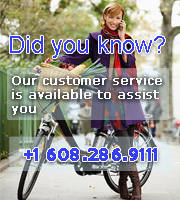 Whats Hot?
You have no items in your shopping cart.
You have no items to compare.
Bike-O-Rama Bicycle Sale
March 7, 8, 9th - 2014
Several area bicycle shops host one of the Midwest's largest bicycle sales at the Alliant Energy Center's Arena Building on John Nolan Drive in Madison. Dont miss out on the 2014 bicycle sale! Read More Details on this huge Bicycle Sale.
Mirraco
There are no products matching the selection.